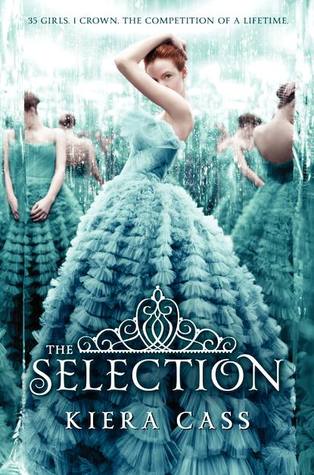 Format: Hardcover, 336 pages
Published: April 24th 2012
Genre: Dystopian, Romance
ISBN: 9780062059932
Age Range: 11-adult
Rating: 4/5
For thirty-five girls, the Selection isthe chance of a lifetime. The opportunity to escape the life laid out for them since birth. To be swept up in a world of glittering gowns and priceless jewels. To live in a palace and compete for the heart of gorgeous PrinceMaxon.But for America Singer, being Selected is a nightmare. It means turning her back on her secret love with Aspen, who is a caste below her. Leaving her home to enter a fierce competition for a crown she doesn't want. Living in a palace that is constantly threatened by violent rebel attacks.

Then America meets Prince Maxon. Gradually, she starts to question all the plans she's made for herself–and realizes that the life she's always dreamed of may not compare to a future she never imagined.
I was expecting this series to be too girly and too boring, however America was SASSY! This girl has serious strength and spirit, and I'm not talking about butt kicking strength rather her personality is strong. She knows who she is and is proud of it. In the Selection novel you get many girls all fighting over the attention of the same man, a prince no less. (See you are thinking what I was thinking!) There is more to this story than that though. By fighting for the love of the Prince they are all hoping to improve the well-being of their families. There is a caste system in place with the richest on top and the poorest on the bottom. The castes decide not only where you live within society, but also what career choices you have available. There are ways to go up and down within the caste system but it is very rare and very difficult. Being "Selected" gave these girls a chance to not only feed their families (the families are paid for as long as the girls are competing) but also for them to move up within the caste system. Doing so gives them more options for bettering their lives and the lives of their families.
Kiera Cass made the love triangle here so complicated (in a good way!) that you literally toss back and forth between which man you want to see America chooses. Aspen is her childhood love and the underdog of the story. Maxon is the prince and let's face it who doesn't want to be a PRINCESS!? This love triangle brought me back to the days where you saw Twilight fans screaming TEAM JACOB and TEAM EDWARD. You always start to lean one way though and then something happens that has you gravitating back towards the other man.
Selection was the perfect combination of Dystopian, Contemporary, and Romance for me. You get to meet so many diverse characters from all different caste systems and pretty much watch things explode in front of you. America makes the wise decision to make her relationship with Maxon a very honest friendship and I really hope it takes her all the way to the end of this competition. Go AMERICA!
PS. I'm a little disappointed the CW network didn't pick this up as a show. I feel like they could have made it out to be something extraordinary. Imagine a teen, futuristic version of the bachelor! Yup, I would have watched it!