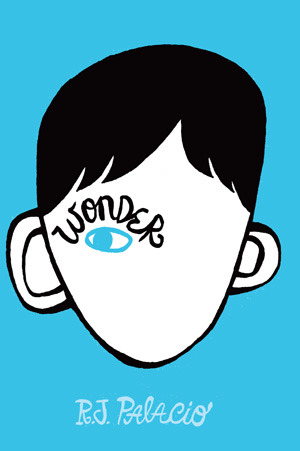 Format: Hardcover, 313 Pages
Published: Feb 14th 2012
Genre: Coming of Age
ISBN: 9780375869020
Age Range: 8+
Rating: 5/5 stars
 August (Auggie) Pullman was born with a facial deformity that prevented him from going to a mainstream school—until now. He's about to start 5th grade at Beecher Prep, and if you've ever been the new kid then you know how hard that can be. The thing is Auggie's just an ordinary kid, with an extraordinary face. But can he convince his new classmates that he's just like them, despite appearances? R. J. Palacio has written a spare, warm, uplifting story that will have readers laughing one minute and wiping away tears the next. With wonderfully realistic family interactions (flawed, but loving), lively school scenes, and short chapters, Wonder is accessible to readers of all levels.
This is a heartwarming and realistic story about a young boy named August whose face is a little deformed. He has had many surgeries to make his face look more 'normal' and is ready to finally attend school. He is starting school this year in grade 5 and is very nervous. As any child would be, he is worried about fitting in and making friends. His parents are unsure of if this is the right time for him to be going, they are worried about him being bullied and that no one will accept him the way that they have. Luckily, the principal sets him up with a few students to show him around and meet him before the school year actually begins.
What I loved about this book is the range of characters you get to see. As you get further into the book the points of view change and you get to read chapters with the opinions of Summer and Jack, two of the students and Via (Auggie's sister). The different POVs give you an opportunity to see the different levels of understanding and compassion. One of the chapters is written without any capital letters though, and although I understand the reasoning (lack of characters education) I found it very difficult to read and not correct as I went through it. This, however, could be used as a great teaching tool in a classroom, having the class re-write the chapter to fix the errors. Or have the students each write their own chapter about how they think they would feel in the situation.
Overall, I adore this book. I recommend it to anyone looking for a heartwarming read, or a shared reading with their kids. It is the perfect amount of amusing and smart mixed with some great messages of compassion, caring and understanding of others.