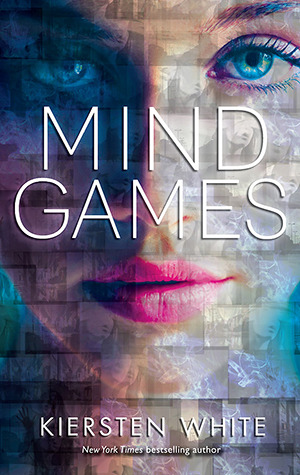 Format: Hardcover, 237 pages
Published: Feb 19th 2013
Genre: Supernatural, Thriller
ISBN: 9780062135315
Age Range: 13+
Fia was born with flawless instincts. Her first impulse, her gut feeling, is always exactly right. Her sister, Annie, is blind to the world around her—except when her mind is gripped by strange visions of the future.

Trapped in a school that uses girls with extraordinary powers as tools for corporate espionage, Annie and Fia are forced to choose over and over between using their abilities in twisted, unthinkable ways…or risking each other's lives by refusing to obey.
"Mind Games" by Kiersten White is a book that grabs you right from the first chapter! Having the bond as most sisters do, Fia and Annie want to protect each other from everything. I myself have a sister, so it may have helped in my reasoning for adoring this book.
After the death of their parents they get shipped off to a private school and are expected to use their special talents to aid in the institution's future plans and development. The school has specialized teachers to help them control and practice their powers to ensure they can maximize their abilities when needed.
Annie, the eldest sister, is blind and a seer. This means she has visions of things in the present and future. The younger sister Fia is a little bit trickier and has the ability of intuition. They, for lack of a better term, turn her into a murderer. She uses her intuition and the training they provide to track and chase people that the institution finds threatening. It is with Fia's duties that the sisters reach a crossroads. Annie wishes Fia would be kind to humanity, and wishes she wouldn't risk her life so much. Fia on the other hand does everything she can to hide what it is happening from Annie without much success.
The story is told in first person by each of the sisters interchangeably allowing us to feel every moment of joy and sorrow throughout the whole novel. This is a quick paced, easy read, that is a prefect supernatural thriller.