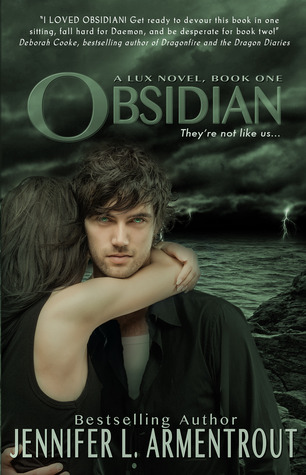 Format: Paperback, 335 pages
Published: May 8th 2012
Genre: Fantasy
ISBN: 9781620610077
Age Range: 15+
Rating: 4/5 stars
Starting over sucks.
When we moved to West Virginia right before my senior year, I'd pretty much resigned myself to thick accents, dodgy internet access, and a whole lot of boring… until I spotted my hot neighbor, with his looming height and eerie green eyes. Things were looking up.
And then he opened his mouth.
Daemon is infuriating. Arrogant. Stab-worthy. We do not get along. At all. But when a stranger attacks me and Daemon literally freezes time with a wave of his hand, well, something… unexpected happens.
The hot alien living next door marks me.
You heard me. Alien. Turns out Daemon and his sister have a galaxy of enemies wanting to steal their abilities, and Daemon's touch has me lit up like the Vegas Strip. The only way I'm getting out of this alive is by sticking close to Daemon until my alien mojo fades.
If I don't kill him first, that is.  
I don't even know where to start with this series. It was such a light and easy read that it fit perfectly into what I needed at the moment. The relationship, or lack there of, between Daemon and Kat was amusing. The only thing that bothered me was that it started to get repetitive.
There was one part in the novel that made me REALLY uncomfortable, and it wasn't the actual scene that made me uncomfortable but the fact that I know many young teen girls that have been reading this series and although they don't go 'all the way' the scene was definitely spicy enough to make me blush.
Okay, so the plot line. Katy, a quiet book blogger, moves to a small town with her Mom after her father passes. Moving is her Mom's way of letting go of her Dad and moving on from the loss, Katy however, isn't quite ready yet. With her Mom being a nurse and working two jobs, Katy is left to fend for herself quite frequently. It isn't a surprise when Katy's Mom starts encouraging her to make friends with the neighbour kids so that she had some sort of companionship in their new town. Katy decides to take her Mom's advice and introduce herself to the neighbours while also asking for directions to the nearest grocery store.
Enter Daemon. He is gorgeous, but as we know from real life, the hottest boys are never the nicest. Katy has some very specific curse words for him throughout the series, don't worry. These two have the most intense and dramatic relationships that I think I have ever seen in a book. I think despite how irritating they made me sometimes, they definitely made my top 10 list of book character relationships.
And we can't forget Dee! Dee is Daemon's twin sister, and Katy's new best friend. She is sweet, excitable and everything that Daemon isn't. Daemon does everything in his power to protect Dee, including pushing Katy away because he doesn't think them being friends is a good idea. Why isn't this a good idea? BECAUSE DEE AND DAEMON ARE ALIENS! Don't worry, this isn't a big spoiler, you find out at the beginning of the book.
What happens afterwards though gets crazy! If you are in the mood for a lighthearted, forbidden romance I would totally recommend this series. You must be warned though, there is some foul language (although, used sparingly to enhance the setting and emotion) and some sexual content (spicy makeout and maybe a little of first base even).
Without a doubt I will be continuing this series. I already finished book 2 and bought books 3 & 4 (in a set of course).