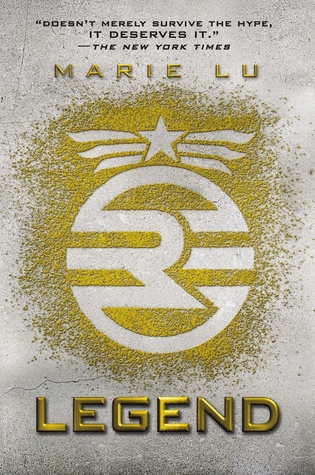 Format: Paperback, 305 pages
Published: April 16th 2013
Genre: Dystopian
ISBN: 9780142422076
Age Range: 12+
Rating: 4/5 Stars
From different worlds, June and Day have no reason to cross paths…Until June's brother is murdered, and Day becomes the prime suspect.

In a shocking turn of events, the two uncover what has really brought them together, and the sinister lengths to which their country will go to keep its secrets.
Normally books that change POV back and forth bother me but I really enjoyed it in this novel. It really gives you a chance to see two totally different perspectives of 'reality'.
One perspective is June, she is a strong female character who is trying to find out the truth behind her brother's murder. She wants revenge and will stop at nothing to get it. June must join the government to get the intel she needs to follow through with her promise but she isn't sure it is the right place for her. She feels like there are pieces to the puzzle that she is missing.
The other perspective is Day, he is a criminal in this world. He hates the government and will do anything he can to bring them down. His family and friends are all falling ill with the plague and the government is hiding something he is determined to figure out.
When these two characters come together you get one amazing story. There is no doubt that if you were to hand me a copy of Hunger Games and a copy of Legend that I would absolutely, without any doubt read Legend again without even having to debate it. Legend is full of action, suspense and had me on the edge of my seat. I definitely recommend this book to anyone looking for a good futuristic, dystopian read.