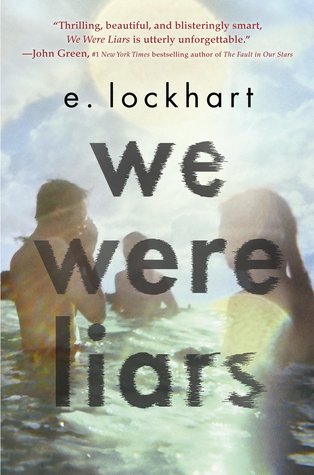 A beautiful and distinguished family.
A private island.
A brilliant, damaged girl; a passionate, political boy.
A group of four friends—the Liars—whose friendship turns destructive.
A revolution. An accident. A secret.
Lies upon lies.
True love.
The truth.

We Were Liars is a modern, sophisticated suspense novel from National Book Award finalist and Printz Award honoree E. Lockhart.
Read it.
And if anyone asks you how it ends, just LIE.
Everyone keeps telling me how amazing this book is. I walk by it every time I am at the book store, always displayed somewhere right in front of my face taunting me. The problem is that I just can't buy anymore books! I know, terrible, terrible, excuse but I own over 150 books that I haven't read yet. Hmmm .. Maybe if I didn't blog so much I could read more? haha Yeah, I don't think that is a good solution! Maybe if I quit my job? Nah, probably not a good idea either. What I will do is continue to read as fast as I can, and write as much as I can to justify one day purchasing this book. Or maybe, someone, somewhere has a copy of this book that they would be willing to send me? I can dream right!
If you would like to read the first couple pages of this book to find out what all the hype is about please click Here or Buy it now
Anyway, this Wishlist Wednesday, I would like to wish for this book to magically appear on my shelves. 🙂 Happy Wednesday!