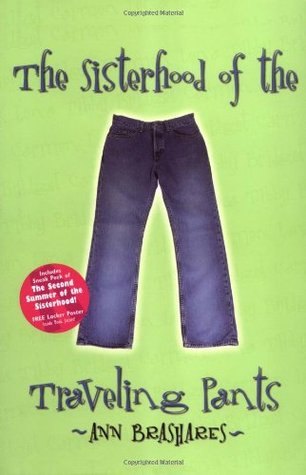 Format: Hardcover, 294 pages
Published: Sept 11 2001
Genre: Coming of Age, Contemporary
ISBN: 9780385729338
Age Range: 13+
Carmen got the jeans at a thrift shop. They didn't look all that great: they were worn, dirty, and speckled with bleach. On the night before she and her friends part for the summer, Carmen decides to toss them. But Tibby says they're great. She'd love to have them. Lena and Bridget also think they're fabulous. Lena decides that they should all try them on. Whoever they fit best will get them. Nobody knows why, but the pants fit everyone perfectly. Even Carmen (who never thinks she looks good in anything) thinks she looks good in the pants. Over a few bags of cheese puffs, they decide to form a sisterhood and take the vow of the Sisterhood of the Traveling Pants . . . the next morning, they say good-bye. And then the journey of the pants — and the most memorable summer of their lives — begins.
This feels like a real true throwback for me. I have many memories of this series with a bunch of my friends and family members. I will do my best to keep this review as much about the book as I possibly can!
There are four main characters:
Tibby – crabby, anti-society, 'Debbie Downer'
Lena – quiet, artistic, beautiful
Bridget – athletic, perfectionist, adventurous
Carmen – Feisty, Curvy, Cultural
With each character being so different (and a little similar) you can see how the appeal is widened to cover a number of people with varied interests.
Now, the main idea – a pair of pants that manages to fit every girl perfectly, even curvy Carmen. Okay, this is very unlikely, if anyone finds a pair of pants like this please let me know! However, I love the idea. I love that it only took one small thing in common to keep these girls bonded throughout their summer of change.
You follow each girl throughout a different adventure – Tibby is staying at home working, Carmen is off to visit her dad for the summer, Bridget is off to soccer camp and Lena is headed to Greece! The pants get sent from place to place with the adventures documented right on them. Of course the pants (and the sisterhood) have some rules that need to be followed as well.
There are high's and low's for each character and the emotionally aspects are very real. Ann Brashares does an amazing job conveying emotions and making the reader truly sympathize with the character.
Although I know this series is not for everyone, I feel like everyone should give it a shot. If not the book than definitely the movie, just one chance. I beg you all!