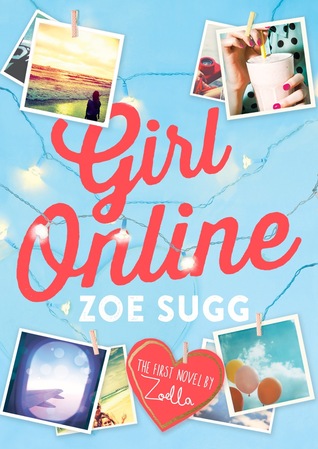 Penny has a secret.

Under the alias GirlOnline, she blogs about school dramas, boys, her mad, whirlwind family – and the panic attacks she's suffered from lately. When things go from bad to worse, her family whisks her away to New York, where she meets the gorgeous, guitar-strumming Noah. Suddenly Penny is falling in love – and capturing every moment of it on her blog.

But Noah has a secret too. One that threatens to ruin Penny's cover – and her closest friendship – forever.
I keep hearing really good things about this book despite the fact that it was only released this week.
Now, if you don't know about Zoe Sugg you probably live under the same rock as me! I had no idea who she was until I saw this book and started to look into it a little bit. It turns out she is a pretty popular youtuber from the UK. You can check out her website www.zoella.co.uk She is funny, quirky and perky. I really enjoyed watching some of her videos and if she puts the same upbeat style into her books I think they will be very popular.
I expect it to be a little like the Lauren Conrad Series (if you have no idea what I am talking about, please check out my reviews). I think we will see a replay of her true life, with a little bit more added flare and drama. I actually cannot wait, you can guarantee it will be in my next book haul!