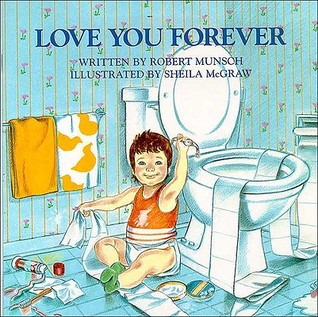 Format: Paperback, 32 Pages
Published: Sept 1st 1995
Genre: Family, Love
ISBN: 9780920668375
Age Range: 2+
Rating: 2/5
An extraordinarily different story by Robert Munsch is a gentle affirmation of the love a parent feels for their child–forever. Sheila McGraw's soft and colorful pastels perfectly complement the sentiment of the book–one that will be read repeatedly for years.
To be honest, I have a love hate relationship with this book. I think that it and Munsch had good intentions. I understand that he was trying to show unconditional love but I really feel as though he pushed it a little far. I think putting a ladder to your sons window and sneaking into his house to cuddle him is a little much. Wouldn't his partner be a little confused and concerned?
Don't get me wrong, I love Robert Munsch and I love what he was trying to say but I really wish he had of gone about this another way. Even if you don't take the book literally, it is still a little depressing to be a children's book.
Where are the men? I understand that there aren't always fathers in the situation but there aren't always mothers either! Where is the 'Love you forever' father's edition?
Good things about this book? I love the repetition, I think it is great to have a rhythm with books you are reading to children. I also think this book is great to read with your children, it shows them that the bond between parent and child is unbreakable.
I remember reading this book with my parents, it brings back good memories but I don't think I would buy this book for my own children. I would rather read a book like 'I love you stinky face' by Lisa McCourt, same overall message but is funny.