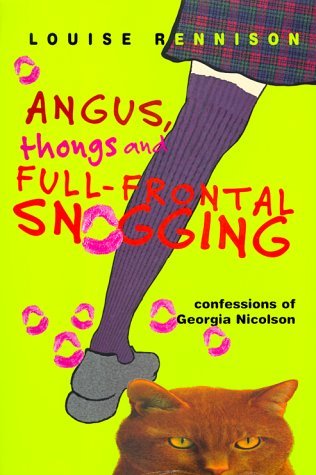 I can't say enough good things about this book. It makes me laugh every single time I read it. If you can handle british slang (although the more recent versions have been a little more 'Americanized'), like to laugh, and are a teen girl – THIS BOOK IS PERFECT FOR YOU.
There are six things very wrong with my life:

1. I have one of those under-the-skin spots that will never come to a head but lurk in a red way for the next two years.

2. It is on my nose

3. I have a three-year-old sister who may have peed somewhere in my room.

4. In fourteen days the summer hols will be over and then it will be back to Stalag 14 and Oberfuhrer Frau Simpson and her bunch of sadistic teachers.

5. I am very ugly and need to go into an ugly home.

6. I went to a party dressed as a stuffed olive.
Georgia just wants people to like her, but being a teen girl can be awkward. As she sits in that middle ground between girl and woman she sheds some light (and humour) on some of the situations that can make girls blush. You get to join Georgia as she explores things like shaving, wearing a bra, her first thong and even kissing.
She spends her days trying to plan out ways to impress people, it never seem to work out the way she has intended. Adding these embarrassing moments will often make readers snort and chuckle out loud so be warned. This book is not to be read during silent reading or out in public.
Written in a diary form you really get a first hand perspective on the troubles of womanhood. It is a quick and easy read, the kind I would have done in a day or two at most. This series wasn't released until I was in high school, so I didn't get to enjoy the awkwardness along with Georgia but I did enjoy comparing my experiences with hers. I read this series right up until I was in University (I believe I read up to book 7) so I still have a few left to finish. I can't wait to start reading this series again, and I might actually start it from the beginning.
Like what you've read? Order it now with free shipping!