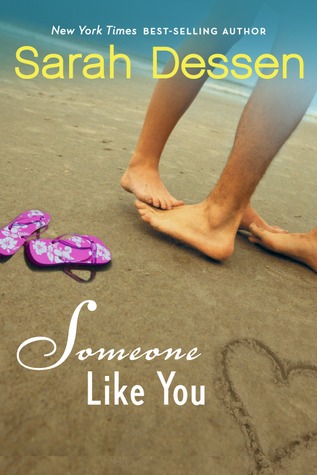 I loved this book beyond words. Sarah Dessen always deals with hard issues, but she always deals with them so well. She doesn't glam them up, which is what I love. In this book we see teen girls dealing with grieving, pregnancy and the social outcomes of both situations.
Halley and Scarlett are best friends, they do everything together. Halley has gone away to camp this one summer and leaves Scarlett at home with her boyfriend. Sadly, Scarlett's boyfriend Michael passes away in a motorcycle accident and in the midst of the grief Scarlett finds out she is pregnant. Cue the madness.
Halley is the quiet one, often lurking in Scarlett's shadow. Everything is going to change now, Halley needs to be Scarlett's support which means she needs to muster up some strength. Being strong get's a little easier when she meets Macon, he is a rebellious trouble maker that helps pull her out of her shell.
I loved this story because Halley is the kind of friend I would want if I was pregnant, the kind of true friend that sticks beside you no matter what. I was a little disappointed though that I never got to find out how Scarlett did as a mom, I wanted her to succeed. I also want to know that the girls are still friends. Dessen should write a sequel 20 years later so I can catch up and see how their lives turned out.
Like what you've read? Order it today and get it shipped for free!