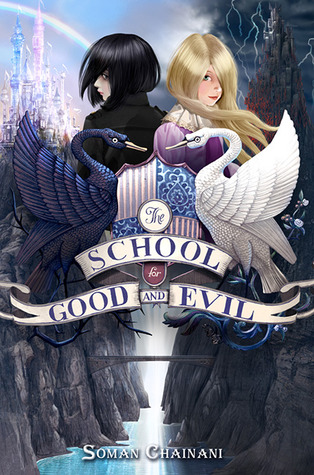 Format: Hardcover, 488 Pages
Published: May 14th 2013
Genre: Adventure, Fairy-tale, Magic
ISBN: 9780062104892
Age Range: 10+
he first kidnappings happened two hundred years before. Some years it was two boys taken, some years two girls, sometimes one of each. But if at first the choices seemed random, soon the pattern became clear. One was always beautiful and good, the child every parent wanted as their own. The other was homely and odd, an outcast from birth. An opposing pair, plucked from youth and spirited away.

This year, best friends Sophie and Agatha are about to discover where all the lost children go: the fabled School for Good & Evil, where ordinary boys and girls are trained to be fairy tale heroes and villains. As the most beautiful girl in Gavaldon, Sophie has dreamed of being kidnapped into an enchanted world her whole life. With her pink dresses, glass slippers, and devotion to good deeds, she knows she'll earn top marks at the School for Good and graduate a storybook princess. Meanwhile Agatha, with her shapeless black frocks, wicked pet cat, and dislike of nearly everyone, seems a natural fit for the School for Evil.

But when the two girls are swept into the Endless Woods, they find their fortunes reversed—Sophie's dumped in the School for Evil to take Uglification, Death Curses, and Henchmen Training, while Agatha finds herself in the School For Good, thrust amongst handsome princes and fair maidens for classes in Princess Etiquette and Animal Communication.. But what if the mistake is actually the first clue to discovering who Sophie and Agatha really are…?
I was happily surprised by this book. My concerns were that the good vs evil was going to be over done or not original enough to keep my attention but Chainani did a great job of keeping it original.
Agatha is not the most attractive girl you would meet. She loves wearing dark clothes and is often hiding in the shadows. She doesn't like to socialize and when she does it normally doesn't work out so well.
Sophie is pretty and spoiled. She has everything she could possibly want and more. Girls want to be her and boys want to be with her. Like Agatha though, she doesn't have a lot of friends.
When the two girls are together they know that they don't really have a lot in common but having anyone is better than having no one. However, when they get stolen to go to the school for good and evil they are surrounded by people and neither of them really know what to do. Naturally, you would assume that Agatha would be going to the school for Evil and Sophie to the school for Good but we all were wrong. Or was it the chancellor who was wrong?
Sophie and Agatha fight to convince people that they need to switch places but will anyone ever believe them?
A story full of twists and turns, a little more history on some of our favourite fairy-tale characters. I was wrapped in this story and wanted wholeheartedly for Sophie and Agatha to find their rightful places within the school.