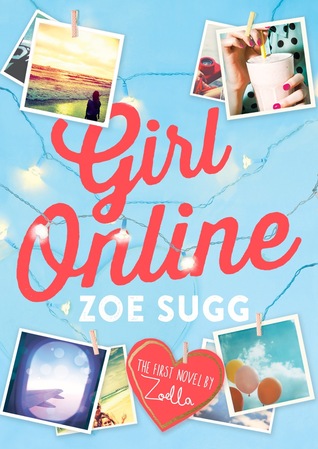 Format: Hardcover, 352 Pages
Published: November 25th 2014
Genre: Contemporary Romance
ISBN: 9780141357270
Age Range: 13+
Rating: 4/5
I had no idea Girl Online would take off the way it has – I can't believe I now have 5432 followers, thanks so much! – and the thought of opening up to you all about this is terrifying, but here goes…

Penny has a secret.

Under the alias GirlOnline, she blogs about school dramas, boys, her mad, whirlwind family – and the panic attacks she's suffered from lately. When things go from bad to worse, her family whisks her away to New York, where she meets the gorgeous, guitar-strumming Noah. Suddenly Penny is falling in love – and capturing every moment of it on her blog.

But Noah has a secret too. One that threatens to ruin Penny's cover – and her closest friendship – forever.
**** I would like to start this review by this review is completely unbiased and judged solely based on comparisons to other YA novels. ****
Penny, an introvert, starts a blog to help her talk about some of her lives most embarrassing moments. The only person that knows her true identity is her best friend and boy next door. As she writes her heart out the world starts to take notice. Her blog starts to explode with supportive comments and her blog becomes a safe haven for girls like her.
When her mom takes a job in New York, her and the boy next door Elliot get to set off on an amazing new adventure.
Similarities to Sarah Dessen and Jenny Han.
The story, a light-hearted romantic tale is simple but definitely succeeded in what it set out for. I was wooed, I was torn and I laughed. Not original by any means but the added British humour helped. The characters were well-developed and realistic, you couldn't help but sympathize. Plus, I'd love to go back 15 years and get myself an Elliot. Who wouldn't love a true blue boy next door with secret knocks! You'll have to read the book to understand.