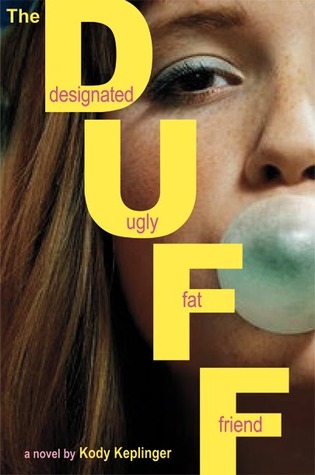 Format: Paperback, 280 Pages
Published: Sept 7th 2010
Genre: Contemporary, Coming of Age
ISBN: 9780316084239
Age Range: 16+
Rating: 2/5
Seventeen-year-old Bianca Piper is cynical and loyal, and she doesn't think she's the prettiest of her friends by a long shot. She's also way too smart to fall for the charms of man-slut and slimy school hottie Wesley Rush. In fact, Bianca hates him. And when he nicknames her "the Duff," she throws her Coke in his face. But things aren't so great at home right now, and Bianca is desperate for a distraction. She ends up kissing Wesley. Worse, she likes it. Eager for escape, Bianca throws herself into a closeted enemies-with-benefits relationship with him.

Until it all goes horribly awry. It turns out Wesley isn't such a bad listener, and his life is pretty screwed up, too. Suddenly Bianca realizes with absolute horror that she's falling for the guy she thought she hated more than anyone.
I was actually very disappointed with this book. I had heard so many good things about it, and spent years waiting to read it, all for nothing.
I was expecting it to be funny, you know when you go to see a movie because the trailer was hilarious but all the funny parts were shown in the trailer so you are left disappointed and wanting more? That is exactly how I felt with this book, I wanted more. There was so much potential too!
The characters were real, their insecurities were real and I appreciated that, what I didn't enjoy was the emphasis on Bianca's home life with no real resolution for any of those serious issues. I think Keplinger could have touched many people if the discussion of divorce or alcoholism had been dealt with better.
I know it is sad, but the biggest kick for me was the humour. Where are the funny home beauty remedies that turn your face purple or all the other crazy, cooky things us girls do as we grow up…. I dunno, maybe it was my mood but I think it was missing something.