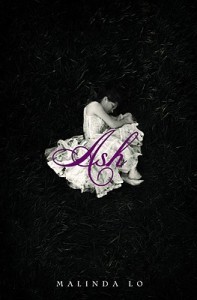 Format: Hardcover, 264 Pages
Published: Sept 1 2009
Genre: Fairy tale, Contemporary
ISBN: 9780316040099
Age Range: 15+
In the wake of her father's death, Ash is left at the mercy of her cruel stepmother. Consumed with grief, her only joy comes by the light of the dying hearth fire, rereading the fairy tales her mother once told her. In her dreams, someday the fairies will steal her away, as they are said to do. When she meets the dark and dangerous fairy Sidhean, she believes that her wish may be granted.

The day that Ash meets Kaisa, the King's Huntress, her heart begins to change. Instead of chasing fairies, Ash learns to hunt with Kaisa. Though their friendship is as delicate as a new bloom, it reawakens Ash's capacity for love-and her desire to live. But Sidhean has already claimed Ash for his own, and she must make a choice between fairy tale dreams and true love.

Entrancing, empowering, and romantic, Ash is about the connection between life and love, and solitude and death, where transformation can come from even the deepest grief.
I would normally start with some sort of overview of the book but this one is very difficult to sum up. What is said above describes everything right to the final plot twist so there is nothing left to the imagination (or to surprise you when reading).
I had really high hopes for this book and I think that is why I ended up being disappointed. The book was very slow to start and frustrating to push through to read. By the time it got to the end I was so ready for it to be over that the final twists didn't mean anything to me.
Malinda Lo's writing was good but the story lacked emotion. There were some key features that I thought were missing.
1. The characters were lackluster and lacked depth
2. There never seemed to be a problem that needed solving (sexuality came into question but never seemed to be given much thought)
I wonder if Ash's sexuality wasn't called into question if there really would have been a point to this book at all. I mean, it is suppose to be a Cinderella spin-off and I never felt true blood boiling hatred towards her step-mother and it seemed to miss a lot of the key Cinderella plot points that I grew up loving. Where is the prince? I thought for sure it was going to turn out to be Sidhean. Where was the ball? The doting mice?
If you took out my love for Cinderella and my need for this story to meet my expectations I probably would have enjoyed it a little more. It did have an interesting love triangle and some pretty neat friendships and self discovery.
To sum this up: don't just read this book because you heard it was a lesbian Cinderella, you will end up being very disappointed, it completely missed the target.