After my post on Saturday and with how often I am asked "what should I read after The Fault In Our Stars?" I decided I should make this post. There are lots of places that you can find ideas of books that are good to read and I have used some of these places as a reference but I am mostly recommending books from my own experiences. The hard thing about categorizing sick-lit is that everyone judges the category differently. You have everything from terminal illnesses to anxiety in the category making it very broad. I am going to split them into sub-categories for you: Emotional and General. 
Emotional reads are the ones that you should schedule a weekend with a box of kleenex and some eye cream to help reduce the swelling from the amount of tears that will occur. These will likely involve terminal illnesses or deaths.
General reads are the ones that have a protagonist that is ill, but will not have you sobbing. Some of these may be slightly humorous, but will always have other plot lines including but not limited to: bullying, school and relationships. These protagonists often have mental illnesses such as anxiety, depression, or have physical disabilities.
Let me start with the Emotional reads:

The Fault In Our Stars
I might as well start this off with the famous TFIOS. Most of you have probably already read this book, or if you are like me consciously made the choice not to. This book has been difficult to avoid reading but touches way too close to home for me to actually finish.
This Star Won't Go Out: The Life and Words of Esther Grace Earl
As the inspiration for TFIOS you have only skimmed the surface of Esther Grace Earl's story.
A collection of the journals, fiction, letters, and sketches of the late Esther Grace Earl, who passed away in 2010 at the age of 16. Photographs and essays by family and friends will help to tell Esther's story along with an introduction by award-winning author John Green who dedicated his #1 bestselling novel The Fault in Our Stars to her.
Thirteen Reasons Why by Jay Asher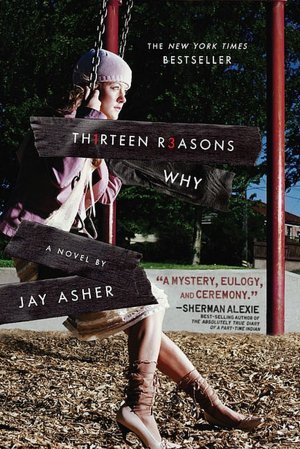 A book about dealing with life, depression and suicide.
Clay Jensen returns home from school to find a mysterious box with his name on it lying on his porch. Inside he discovers thirteen cassette tapes recorded by Hannah Baker, his classmate and crush who committed suicide two weeks earlier.

On tape, Hannah explains that there are thirteen reasons why she decided to end her life. Clay is one of them. If he listens, he'll find out how he made the list.

Through Hannah and Clay's dual narratives, debut author Jay Asher weaves an intricate and heartrending story of confusion and desperation that will deeply affect teen readers.
A Walk to Remember by Nicholas Sparks
Another book that likely needs no introduction. Most of us have either read the book or watched the movie, however, this may be worth a re-read if this is something that would interest you.
Every April, when the wind blows from the sea and mingles with the scent of lilacs, Landon Carter remembers his last year at Beaufort High. It was 1958, and Landon had already dated a girl or two. He even swore that he had once been in love. Certainly the last person in town he thought he'd fall for was Jamie Sullivan, the daughter of the town's Baptist minister.

A quiet girl who always carried a Bible with her schoolbooks, Jamie seemed content living in a world apart from the other teens. She took care of her widowed father, rescued hurt animals, and helped out at the local orphanage. No boy had ever asked her out. Landon would never have dreamed of it.

Then a twist of fate made Jamie his partner for the homecoming dance, and Landon Carter's life would never be the same. Being with Jamie would show him the depths of the human heart and lead him to a decision so stunning it would send him irrevocably on the road to manhood…
Zac and Mia by A.J. Betts
This may not make you cry as hard as the first two on the list but it will definitely pull at your heart strings.
Mia's not your typical hospital patient. Her next door neighbor Zac can hear her fighting with her mom and the nurses through their shared wall and he wishes she'd get over herself. But soon they are trading messages that evolve into a bond neither sees coming.

Apart from illness, they have little in common: she's a gorgeous girl with an entourage of perfect friends and he's a soccer-playing farm boy. In the real world, these two seventeen year-olds would have little to say to each other, but in the hospital the usual rules no longer apply.
By the time Zac is discharged, Mia is gone too, and he wonders about her. Is she okay? Is she better? He can't find out. She's left Facebook and won't answer his texts. Until the night he hears a tap at his window.

Told in alternating perspectives, Zac and Mia tracks the relationship of two ordinary teenagers in exceptional circumstances. They're both in remission, but cancer has changed everything, and normal isn't normal anymore. This is a funny and tender novel about hope, love, and courage.
All The Bright Places by Jennifer Niven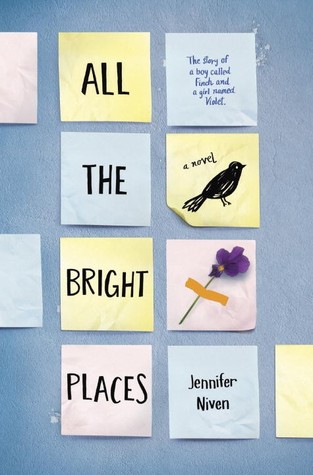 What starts out as a school project turns out to create memories of a lifetime. This book has given me reason to create a bucket list and has touched me in so many ways.
Theodore Finch is fascinated by death, and he constantly thinks of ways he might kill himself. But each time, something good, no matter how small, stops him.

Violet Markey lives for the future, counting the days until graduation, when she can escape her Indiana town and her aching grief in the wake of her sister's recent death.

When Finch and Violet meet on the ledge of the bell tower at school, it's unclear who saves whom. And when they pair up on a project to discover the "natural wonders" of their state, both Finch and Violet make more important discoveries: It's only with Violet that Finch can be himself—a weird, funny, live-out-loud guy who's not such a freak after all. And it's only with Finch that Violet can forget to count away the days and start living them. But as Violet's world grows, Finch's begins to shrink.
General Sick Lit
Forgive Me, Leonard Peacock

Today is Leonard Peacock's birthday. It is also the day he hides a gun in his backpack. Because today is the day he will kill his former best friend, and then himself, with his grandfather's P-38 pistol.

But first he must say good-bye to the four people who matter most to him: his Humphrey Bogart-obsessed next-door neighbor, Walt; his classmate, Baback, a violin virtuoso; Lauren, the Christian homeschooler he has a crush on; and Herr Silverman, who teaches the high school's class on the Holocaust. Speaking to each in turn, Leonard slowly reveals his secrets as the hours tick by and the moment of truth approaches.

In this riveting look at a day in the life of a disturbed teenage boy, acclaimed author Matthew Quick unflinchingly examines the impossible choices that must be made—and the light in us all that never goes out.
Side Effects May Vary
What if you'd been living your life as if you were dying—only to find out that you had your whole future ahead of you?

When sixteen-year-old Alice is diagnosed with leukemia, her prognosis is grim. To maximize the time she does have, she vows to spend her final months righting wrongs—however she sees fit. She convinces her friend Harvey, who she knows has always had feelings for her, to help her with a crazy bucket list that's as much about revenge (humiliating her ex-boyfriend and getting back at her archnemesis) as it is about hope (doing something unexpectedly kind for a stranger). But just when Alice's scores are settled, she goes into remission.

Now Alice is forced to face the consequences of all that she's said and done, as well as her true feelings for Harvey. But has she caused irreparable damage to the people around her—and to the one person who matters most?

Julie Murphy's Side Effects May Vary is a fearless and moving tour de force about love, life, and facing your own mortality.
If I Stay
In the blink of an eye everything changes. Seventeen year-old Mia has no memory of the accident; she can only recall what happened afterwards, watching her own damaged body being taken from the wreck. Little by little she struggles to put together the pieces- to figure out what she has lost, what she has left, and the very difficult choice she must make. Heartwrenchingly beautiful, this will change the way you look at life, love, and family. Now a major motion picture starring Chloe Grace Moretz, Mia's story will stay with you for a long, long time.
Althea and Oliver
What if you live for the moment when life goes off the rails—and then one day there's no one left to help you get it back on track?
Althea Carter and Oliver McKinley have been best friends since they were six; she's the fist-fighting instigator to his peacemaker, the artist whose vision balances his scientific bent. Now, as their junior year of high school comes to a close, Althea has begun to want something more than just best-friendship. Oliver, for his part, simply wants life to go back to normal, but when he wakes up one morning with no memory of the past three weeks, he can't deny any longer that something is seriously wrong with him. And then Althea makes the worst bad decision ever, and her relationship with Oliver is shattered. He leaves town for a clinical study in New York, resolving to repair whatever is broken in his brain, while she gets into her battered Camry and drives up the coast after him, determined to make up for what she's done.

Their journey will take them from the rooftops, keg parties, and all-ages shows of their North Carolina hometown to the pool halls, punk houses, and hospitals of New York City before they once more stand together and face their chances. Set in the DIY, mix tape, and zine culture of the mid-1990s, Cristina Moracho's whip-smart debut is an achingly real story about identity, illness, and love—and why bad decisions sometimes feel so good.
Invincible – Amy Reed
The Fault in Our Stars meets Go Ask Alice in this dramatic romance about a teenage girl who survives a terminal cancer diagnosis, only to get trapped in the deadly spiral of addiction. Fans of Gayle Forman and Sara Zarr will be swept away by this gritty romance, the first in a duology.

Evie is living on borrowed time. She was diagnosed with terminal cancer several months ago and told that by now she'd be dead. Evie is grateful for every extra day she gets, but she knows that soon this disease will kill her. Until, miraculously, she may have a second chance to live.

All Evie had wanted was her life back, but now that she has it, she feels like there's no place for her in it–at least, not for the girl she is now. Her friends and her parents still see her as Cancer Girl, and her boyfriend's constant, doting attention is suddenly nothing short of suffocating.

Then Evie meets Marcus. She knows that he's trouble, but she can't help falling for him. Being near him makes her feel truly, fully alive. It's better than a drug. His kiss makes her feel invincible–but she may be at the beginning of the biggest free fall of her life.
Finding Audrey
An anxiety disorder disrupts fourteen-year-old Audrey's daily life. She has been making slow but steady progress with Dr. Sarah, but when Audrey meets Linus, her brother's gaming teammate, she is energized. She connects with him. Audrey can talk through her fears with Linus in a way she's never been able to do with anyone before. As their friendship deepens and her recovery gains momentum, a sweet romantic connection develops, one that helps not just Audrey but also her entire family.
Say You Will by Cammie McGovern
Cammie McGovern's insightful young adult debut is a heartfelt and heartbreaking story about how we can all feel lost until we find someone who loves us because of our faults, not in spite of them.

Born with cerebral palsy, Amy can't walk without a walker, talk without a voice box, or even fully control her facial expressions. Plagued by obsessive-compulsive disorder, Matthew is consumed with repeated thoughts, neurotic rituals, and crippling fear. Both in desperate need of someone to help them reach out to the world, Amy and Matthew are more alike than either ever realized.

When Amy decides to hire student aides to help her in her senior year at Coral Hills High School, these two teens are thrust into each other's lives. As they begin to spend time with each other, what started as a blossoming friendship eventually grows into something neither expected.
Falling Into Place 
On the day Liz Emerson tries to die, they had reviewed Newton's laws of motion in physics class. Then, after school, she put them into practice by running her Mercedes off the road.

Why? Why did Liz Emerson decide that the world would be better off without her? Why did she give up? Vividly told by an unexpected and surprising narrator, this heartbreaking and nonlinear novel pieces together the short and devastating life of Meridian High's most popular junior girl. Mass, acceleration, momentum, force—Liz didn't understand it in physics, and even as her Mercedes hurtles toward the tree, she doesn't understand it now. How do we impact one another? How do our actions reverberate? What does it mean to be a friend? To love someone? To be a daughter? Or a mother? Is life truly more than cause and effect?
Made You up by Francesca Zappia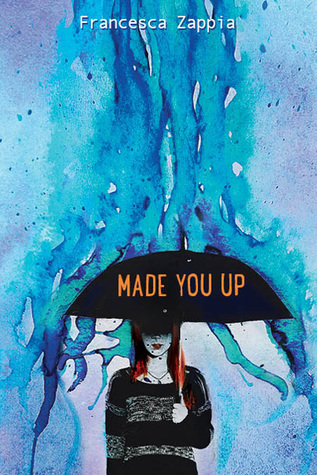 This one is on my TBR list, it is a new release that has been receiving amazing reviews.
Alex fights a daily battle to figure out the difference between reality and delusion. Armed with a take-no-prisoners attitude, her camera, a Magic 8-Ball, and her only ally (her little sister), Alex wages a war against her schizophrenia, determined to stay sane long enough to get into college. She's pretty optimistic about her chances until classes begin, and she runs into Miles. Didn't she imagine him? Before she knows it, Alex is making friends, going to parties, falling in love, and experiencing all the usual rites of passage for teenagers. But Alex is used to being crazy. She's not prepared for normal.

Funny, provoking, and ultimately moving, this debut novel featuring the quintessential unreliable narrator will have readers turning the pages and trying to figure out what is real and what is made up.
I know there are more but I could go on forever! List some of your favourite Sick-lit books in the comments below and as I think of some I will add them in the comments as well!
*Book Bio's from Goodreads, check out my profile!*