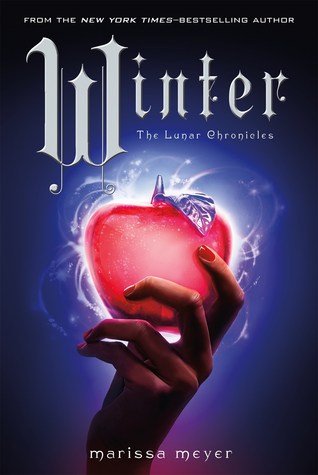 Princess Winter is admired by the Lunar people for her grace and kindness, and despite the scars that mar her face, her beauty is said to be even more breathtaking than that of her stepmother, Queen Levana.

Winter despises her stepmother, and knows Levana won't approve of her feelings for her childhood friend–the handsome palace guard, Jacin. But Winter isn't as weak as Levana believes her to be and she's been undermining her stepmother's wishes for years. Together with the cyborg mechanic, Cinder, and her allies, Winter might even have the power to launch a revolution and win a war that's been raging for far too long.

Can Cinder, Scarlet, Cress, and Winter defeat Levana and find their happily ever afters?
As I've made it pretty clear in earlier posts, I don't often continue a series after I've started it. This series, however, I actually WANT to continue. I think that each book being based on a different character and the character plots intertwine is a nice break from the continuous trilogies that have taken over my shelves lately! 
Well, today is the day! It is finally released! Rush out to your local bookstore and get it while you can!
If you haven't yet started the series, I highly suggest you do! Cinder was a cool twist on a very technological world and the Cinderella fairytale we all know and love!