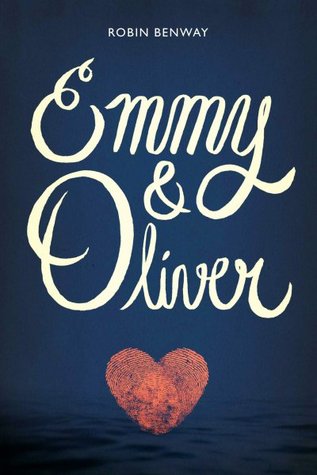 Format: Hardcover, 343 pages
Published: June 23rd 2015
Genre: Contemporary, Coming of Age
ISBN: 9780062330598
Rating: 5/5
Emmy just wants to be in charge of her own life.

She wants to stay out late, surf her favorite beach—go anywhere without her parents' relentless worrying. But Emmy's parents can't seem to let her grow up—not since the day Oliver disappeared.

Oliver needs a moment to figure out his heart.

He'd thought, all these years, that his dad was the good guy. He never knew that it was his father who kidnapped him and kept him on the run. Discovering it, and finding himself returned to his old hometown, all at once, has his heart racing and his thoughts swirling.

Emmy and Oliver were going to be best friends forever, or maybe even more, before their futures were ripped apart. In Emmy's soul, despite the space and time between them, their connection has never been severed. But is their story still written in the stars? Or are their hearts like the pieces of two different puzzles—impossible to fit together?

Readers who love Sarah Dessen will tear through these pages with hearts in throats as Emmy and Oliver struggle to face the messy, confusing consequences of Oliver's father's crime. Full of romance, coming-of-age emotion, and heartache, these two equally compelling characters create an unforgettable story.
So, I'm going to start this review by asking for your patience with me as I am typing on a new laptop and am getting used to this keyboard. I will do my best to watch for spelling errors, but when I get passionate I tend to lose track because my thoughts move faster than my fingers.
Now, this book got me out of my book funk. I was having such a hard time finding a book that could keep my attention. Having a two month old doesn't help, lack of sleep makes it harder to focus on things but with Emmy and Oliver it didn't seem to matter. This book pulled at my heart strings, and not always in a sad way. Benway mixed the perfect concoction of happiness and sadness while throwing in piles of humour, a little love and topping it off with a lot of friendship. It was like a banana split covered in sprinkles and whip cream!
Emmy, Oliver, Drew and Caro are a group of friends that were inseparable. That is, until Oliver was kidnapped by his father. Not knowing if they would ever see Oliver again, the three friends have to continue on with their lives as normally as possible. This is made hard for Emmy in particular. Her family lives beside his and when he went missing her parents became more protective themselves, always with the thought in their heads that she could be taken from them at any moment.
Now, fast forward, the trio are in high school. Emmy is finally trying to get a feel of her identity, finding a passion for something that she knows her parents won't agree with. Having to hide her passion is difficult but life is made a lot more complicated when Oliver is found and returned to his mother in their small town. Will Oliver remember her? Could they still be friends even though so much time has passed? Emmy's struggle is real, the position she is faced with is easily relatable. Have you ever had a friend or family member deal with something that you've never faced yourself? Sometimes you need to try to support them without truly knowing or understanding what they are going through. Benway writes these heartfelt conversations well, they are deep and real with a lot of insight to the emotions and struggles.
This book was exactly what I needed to get myself back into the swing of reading and I can't express my love for this novel enough. The characters were diverse, each facing their own personal realistic struggles. The friendships were true – conversations, fights and relationships that I could picture having in my own life. The plot was busy enough to keep you interested without overwheling you by the number of characters and events that were occuring simultaneously. I whole heartedly recommend this novel, a perfect summer read that will make you fall in love with books all over again.