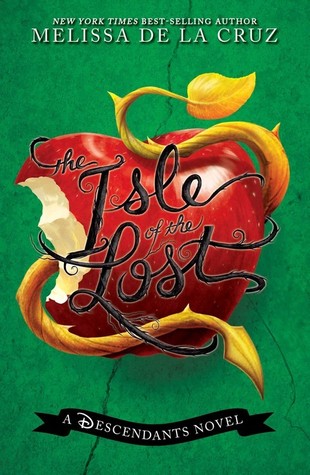 Format: Hardcover, 311 Pages
Published: May 5th 2015
Genre: Fairy Tale
ISBN: 9781484720974
Age Range: 8+
Twenty years ago, all the evil villains were banished from the kingdom of Auradon and made to live in virtual imprisonment on the Isle of the Lost. The island is surrounded by a magical force field that keeps the villains and their descendants safely locked up and away from the mainland. Life on the island is dark and dreary. It is a dirty, decrepit place that's been left to rot and forgotten by the world.

But hidden in the mysterious Forbidden Fortress is a dragon's eye: the key to true darkness and the villains' only hope of escape. Only the cleverest, evilest, nastiest little villain can find it…who will it be?

Maleficent, Mistress of the Dark: As the self-proclaimed ruler of the isle, Maleficent has no tolerance for anything less than pure evil. She has little time for her subjects, who have still not mastered life without magic. Her only concern is getting off the Isle of the Lost.

Mal: At sixteen, Maleficent's daughter is the most talented student at Dragon Hall, best known for her evil schemes. And when she hears about the dragon's eye, Mal thinks this could be her chance to prove herself as the cruelest of them all.

Evie: Having been castle-schooled for years, Evil Queen's daughter, Evie, doesn't know the ins and outs of Dragon Hall. But she's a quick study, especially after she falls for one too many of Mal's little tricks.

Jay: As the son of Jafar, Jay is a boy of many talents: stealing and lying to name a few. Jay and Mal have been frenemies forever and he's not about to miss out on the hunt for the dragon's eye.

Carlos: Cruella de Vil's son may not be bravest, but he's certainly clever. Carlos's inventions may be the missing piece in locating the dragon's eye and ending the banishment for good.

Mal soon learns from her mother that the dragon's eye is cursed and whoever retrieves it will be knocked into a deep sleep for a thousand years. But Mal has a plan to capture it. She'll just need a little help from her "friends." In their quest for the dragon's eye, these kids begin to realize that just because you come from an evil family tree, being good ain't so bad.
So, if you don't already know, this book is a prequel for a Disney Channel movie called The Descendants. I'm really pumped for this movie now!
https://www.youtube.com/embed/iQLFxkGyrRk
I love bringing myself back to all of my favourite childhood evil characters, I mean who doesn't love Jafar! It was wonderful to have that nostalgia.
I can't tell you much without giving it all away, but what I can tell you is that all the evil families have been trapped on an Island and banned from using magic. In fact, there is a dome covering the island that has removed their magical abilities. That means that all the kids, still have to do kid things like go to school and do their homework.
The Isle of the Lost wouldn't be my favourite place to live though, they get the leftover garbage that nobody wants. Burnt coffee and moldy food, but I guess that wouldn't bother you if you were evil and that is what you enjoyed! The kids though, didn't seem as evil as I thought they were going to be. I mean, I get it, kids don't need to be like their parents but I kind of hoped a little.
Either way, I think everyone should read this book and prepare for a really amusing Disney Channel movie. I know I'll be watching it in July just to see what happens! I've followed these characters for the majority of my life, why stop now!